Build A Campaign to Get Australian Military & Cops Out of East Timor!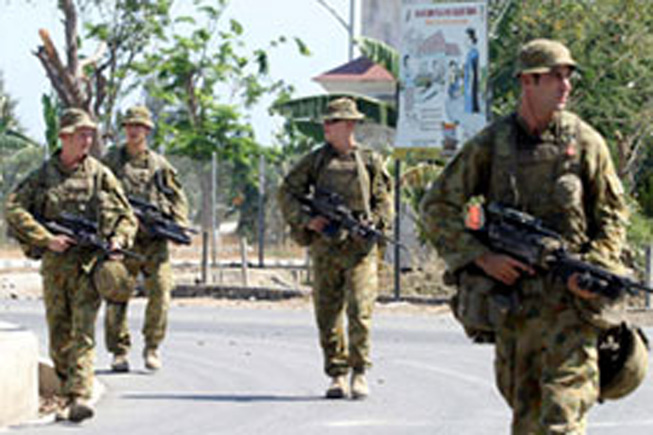 January 11 - It was August 10, 2007 and a military vehicle belonging to the occupation forces lay smouldering in ruins. A convoy of the hated colonial troops had just been pelted with rocks by 600 demonstrators. An exchange of gunfire followed, then the police vehicles were burnt. Occupied Iraq? No, not in this case. This was instead a scene from occupied East Timor. An East Timor where 800 Australian troops and a contingent of Federal Police (AFP) enforce a social order that has been constructed to extract profits for rich Australian corporate owners and to serve the overall interests of Australia's capitalist ruling class. The Timorese masses are meanwhile crushed into terrible poverty. The Australian military/police are the main power in the "International Stabilisation Force" that supports the United Nations intervention in East Timor. New Zealand troops and cops also play a role.
One of the most notorious crimes of the occupation forces in
East Timor
occurred on February 23 of this year near the airport of the capital, Dili. There 8,000 refugees at a camp for Internally Displaced Persons (IDPs) were resisting moves by the pro-Western Horta government and its police to force them to leave the site. Then the Australian military stormed the camp … tanks and all. They committed a massacre of civilians. A statement by some of the IDPs in the camp described the event:
"Australian forces drove two tanks into [the camp] by hitting IDPS door barricade which [was] still unlocked and fueled the situation. The children, old man and women be suffered of tear-gas and resulted two seriously injured and two others were lightly injured and one got shot dead right away under IDPS tent by the Australian troops. The troops wanted to hide the dead bodies assuming he was shot outside of the camp so they then pulled out of barbed wire and his hair stickled [got stuck] at the barbed wire. Then the Australian soldiers cover up the dead–body with black plastics and thrown into maize field. However, many of IDPS were seeing and shouted at them, and then they taken back the dead–body put into Australian military vehicle."

The refugees killed by the Australian troops were Jacinto Soares who was shot dead on the spot (as described above) and Antonio Dasi who was shot in his chest and the left side of his stomach and died later in hospital. Among those shot and injured were Geraldo Guteres, Cris Lopes and Julio da Silva. The IDP statement went on to demand the "Immediate withdrawal of Australian troops out of Timor Leste" [East Timor]. That's a demand that the left in this country ought to seriously support!

At the same camp as the February 23 massacre, Australian troops again opened fire on refugees less than six months later. East Timorese youths had earlier smashed the windows of an Australian military vehicle. The cycle of resistance and brutal colonial repression in East Timor is starting to resemble the situation in the Israeli occupied Palestinian lands. In August, Timorese people denouncing president Ramos Horta as an Australian puppet defied Australian and New Zealand forces by setting up barricades of burning tyres. The youths threw rocks at the hated occupying police and troops and at the Australian embassy. Then on October 4, an explosive device detonated outside the Australian Defence Co-operation House, adjacent to the Australian Embassy. CONTINUE